Wood-fired earthen ovens are easily documented all the way back the ancient Romans. Likewise, they are easily documented in archaeological evidence and first-hand accounts from the 18th Century.
On this page we've gathered the best resources, videos and tips that there is to find online about building and using your own earthen / clay / cob oven. If you find it useful then feel free to share this page with your friends.
Materials Required
To build a common type of earthen oven you will require the following list of materials: sand, dry clay, straw or dry grass (even hay works), bricks (fire bricks are preferred), canvas tarp (to mix your cob together with), and of course water.
The #1 Printed Resource on Earthen Ovens
The 3rd edition of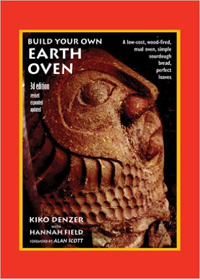 Build Your Own Earth Oven: A Low-Cost Wood-Fired Mud Oven, Simple Sourdough Bread, Perfect Loaves is an Amazon bestseller and pretty much the #1 book you can find on earthen ovens. Build Your Own Earth Oven is fully illustrated with step-by-step directions, including how to tend the fire, and how to make perfect sourdough hearth loaves in the artisan tradition.
The average do-it-yourselfer with a few tools and a scrap pile can build an oven for free, or close to it. Otherwise, $30 should cover all your materials–less than the price of a fancy "baking stone."
I've owned this book for several years…been dying to make an earth oven since I bought this. FINALLY we got around to it this year and even though ours is a simple dome, the pizzas that come out of that oven are to die for. We've also made bread to rave reviews but have yet to do much more with it. It is worth it just for the pizza, though; you CANNOT get pizza like this any other way. /…/ Bottom line, though, is that this is a fabulous resource and inspiration. I LOVE my earth oven and I kiss the feet of the author for spreading the word. 🙂
Top Earthen Oven Videos
How to Build an Earthen Oven
Baking Bread in the Earthen Oven
Earthen Oven in 24 hours
Go from bare ground to a baked loaf of bread in less than 24 hours.

Top step-by-step guides
---
Sorry, you have to be a member to access this content. (it's free!)