In the old days you'd find several types of earth-sheltered houses around the world, including Native American houses such as the Navajo hogans, Sioux earth lodges, pit houses of the West Coast and Plateau, as well as subarctic sod houses in Alaska, Canada and on Iceland in the Atlantic.
These are all semi- or fully subterranean houses, sheltered by the surrounding earth on three or four sides with a roof on top. Earth sheltering is the architectural practice of using earth against building walls for external thermal mass, to reduce heat loss, and to easily maintain a steady indoor air temperature.

Turf house in Sænautasel, Iceland.
The main benefit of the earthen house is that you're sheltered from both cold and wind by the earth, which gives you energy savings as well as a large thermal mass. If you face large windows towards the south you can potentially heat your home 100% passively from the sun.
The main problems with earth-sheltered homes are water seepage, internal condensation, bad acoustics, and poor indoor air quality. All of these problems can be avoided though with proper building design.
Case Study: Mike Oehler's Underground Home

Mike Oehler lived for over 30 years in an underground home that he built for $50 (and expanded for $500) on his land in Northern Idaho near the Canadian border. Now in his seventies his arthritis keeps him from hiking up to his home, but he continues to "write and proselytize"
In 1968 like thousands of other San Franciscans hoping to go "back to the land", Oehler bought property and began to build a homestead. After spending a winter freezing in a small cabin, he designed a home that would use the earth as insulation. With his first attempt he fell into the easy errors of what he calls a "first thought house": a hole cut into a hillside with south-facing windows.
Gradually he began to innovate with subterranean design, creating better ways for letting light in: among them "the Hollywood Wing", "the Royer foyer", gables and most-importantly the "uphill patio" (which also provides space for an earth-sheltered greenhouse). He also created an inexpensive, low-tech approach to basic design with what he calls PSP or Post/shoring/polyethlene.
Mike Oehler's "$50 & Up Underground House Book"
Case Study: The Burdei
The burdei dates back as far as 6000 years and it's a type of half-dugout shelter somewhat between a sod house and a log cabin, usually with a floor that's 1 – 1.5 meters under ground level.
This type of shelter is native to the Carpathian Mountains and forest steppes of eastern Europe but has seen use in North America as well by many of the earliest Ukrainian Canadian settlers as their first home in Canada at the end of the 19th century and by Mennonites from Imperial Russia who settled in the Hillsboro region of Kansas.
The March 20, 1875, issue of the national weekly newspaper Frank Leslie's Illustrated Newspaper described the structures:
…is the quaint brand-new village of Gnadenau, where there are some twenty small farmers, who have built the queerest and most comfortable cheap houses ever seen in the West, and with the least amount of timber, being merely a skeleton roof built on the ground and thatched with prairie-grass. They serve for man and beast, being divided on the inside by a partition of adobe..
Case Study: Dan Price's Underground Home
When Dan Price returned to his home state of Oregon in 1990 he was determined to avoid mortgages or rent (he and his family had just finished caretaking a mansion with a heating bill of $500/month). He found an unused meadow in Joseph, Oregon and began renting it from his neighbors for $100/year (in exchange for cleaning downed trees and repairing fences).
In his meadow paradise, Price now has an underground "hobbit hole" style home, as well as, a composting toilet, a propane-powered shower (using river water) and a pine wood propane sauna. He's not hooked up to city water (he discovered a spring on the property), but he's hooked up to the grid and it's been approved by the county and city.
Recommended Book: Earth-Sheltered Houses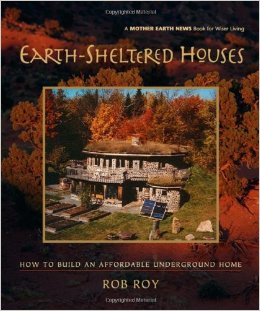 Earth-Sheltered Houses is a practical guide for those who want to build their own underground home at moderate cost. It describes the benefits of sheltering a home with earth, including the added comfort and energy efficiency from the moderating influence of the earth on the home's temperature (keeping it warm in the winter and cool in the summer), along with the benefits of low maintenance and the protection against fire, sound, earthquake, and storm afforded by the earth. Extra benefits from adding an earth or other living roof option include greater longevity of the roof substrate, fine aesthetics, and environmental harmony.
The book covers all of the various construction techniques involved, including details on planning, excavation, footings, floor, walls, framing, roofing, waterproofing, insulation, and drainage.
---
Sorry, you have to be a member to access this content. (it's free!)