The Nanking cherry (Prunus tomentosa) is a decidious and hardy shrub that produce an abundance of small, juicy cherries. It belongs to the Rosaceae family, which includes all cherries, plums, peaches, etc.
It is also known as Korean cherry, Manchu cherry, Downy cherry, Shanghai cherry, Ando cherry, Mountain cherry, Chinese bush cherry, Chinese dwarf cherry, or Hansen's bush cherry.
The Nanking cherry shrub is irregular in shape and can grow to 0.3–3 meters, but rarely more than that. The bark is smooth and coppery black, and the leaves are dark green with white or pink flowers in a scarlet calyx. The flowers are profuse and arranged in clusters. The fruit is a sweet scarlet cherry with slightly tart taste. The cherries are usually 5–12 mm in diameter ripe in early summer.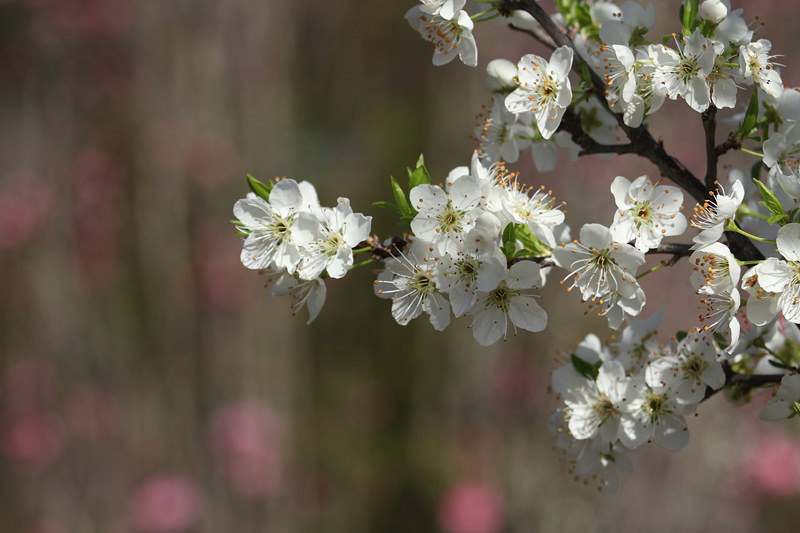 The plant is grown not only as an edible plant but also as an ornamental plant. It is also pruned for bonsai making.
Where It Grows
The Nanking cherry is native to northern and western China, Tibet, Korea, Mongolia, and northern India. It prefers full sun and grows naturally in a variety of soils, but is notably susceptible to honey fungus. The plant grows well in a properly drained but moist & loamy soil. An optimum amount of lime in the soil is preferable. It is hardy to zone 2 in the UK and USDA Hardiness Zones 2 to 7.
The plant itself grows better in partial shade, but fruits are better when it gets a lot of sun. Applying shelter for the growing plant is, therefore, a good idea.
The plant has shallow roots and will grow suckers if the roots are damaged. Flowers are produced on the previous year's growth from March to April and the seeds ripen in July. The flowers have both male and female parts and are insect pollinated.
Why We Like It
The fruit can be eaten raw or cooked, and it has a juicy, slightly acidic to sweet taste.

It can also be used to make juice, jam, wine, fruit leather, jellies, BBQ sauce, and more.

The unripe fruit can be pickled with vegetables and mushrooms.

The plant is both drought and cold resistant.

The plant is used as a dwarfing rootstock for other cherries.

The plant could be used for windbreaks if planted in hedgerows.

It's very low maintenance, and if you'd like, no maintenance at all. It can be pruned in the center to improve air flow and light penetration, but it's not needed.
The abundance of flowers attracts beneficial insects, especially bees.
Where To Get It
United States
Europe
Learn More
Temperate Climate Permaculture
---
Sorry, you have to be a member to access this content. (it's free!)